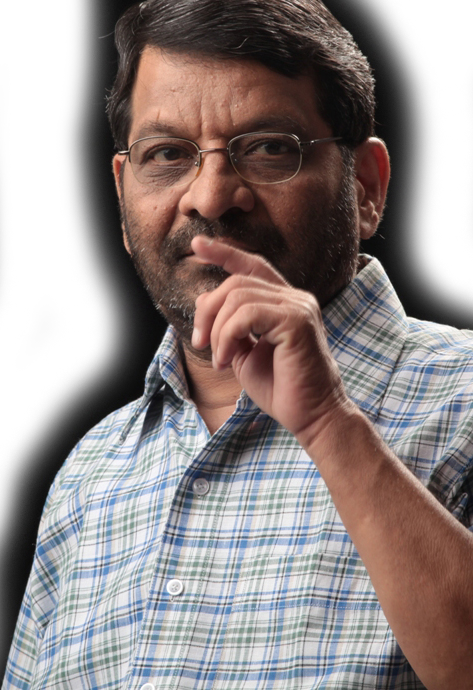 Praveen began his journalistic career nearly thirty five years ago. His real urge was to become a story writer and he thought that a career in journalism might help him achieve that aim. He began as a reporter and later attained promotions as a special reporter, sub editor and editor at various places like Goa, Kolhapur, Chiplun, Satara, Nagpur, Mumbai and Aurangabad.
Praveen is one of the few Marathi journalists who have a rich understanding of the politics, social work, literature, culture and administration of Maharashtra.
He was trained as a journalist under such able editors as Nishsikant Joshi, Anant Bhalerao, Di. Bha. Ghumre, Madhav Gadkari, Arun Tikekar, Suresh Dwadashiwar, Arvind Gokhale, Dinkar Raikar, and Kumar Ketkar. Naturally, he has a strong social commitment and a perfect reading of the social pulse.
Praveen has gained fame as a reporter who focuses his reports around the problems faced by the common man and the middle class, and as a fearless reporter who exposed social hypocrisy and corruption at all levels. The news reported by him and the various articles and features published by him have given him this fame. His prickly pen has not spared the high and the mighty. He has successfully maintained his image as a reporter who does not compromise, who does not bow to any pressure and who cannot be tempted.
Most of his journalistic years were spent in Loksatta; six as a stringer and twenty one as a full time reporter. He was appointed Deputy Resident Editor of Loksatta's Nagpur edition on March 5, 2003, and progressed to the Editor's post. He resigned his job as Editor, Loksatta on March 31, 2011.
He did a commendable job as Editor, Loksatta's Nagpur edition. During his tenure, Loksatta's sales figures increased six fold. His excellent rapport with his team and his ability to charge them helped him achieve the boost in sales and he gained additional fame as 'Damage Control Editor'.
With a positive attitude, contact with the common man, and the ability to read the society's mind created for him a special image as spokesperson of the common man in journalism.
Many of Praveen's news, features, articles, sub editorials and editorials were appreciated by the experts as well as the common men.
In the thirty-five years of journalism, Praveen wrote many features like Magowa, Awati Bhawati, Chowfer, Wedh, Nostalgia, By the way, Diary, Close- Up etc. All these were widely appreciated and Diary and Close- Up became extremely popular. These two features reached Marathi readers all over the world through internet. The first innings of Diary was played on the Loksatta's pitch, while the second innings was played on Lokprabha's pitch. Diary, featured in Loksatta, has been published by Granthali in a book form.
Two editions of Diary, published by Granthali have been sold out in two years. The Diary from Lokprabha is being published soon under the title 'Notes after the Diary'
Praveen's all pervasive, penetrating, and sensitive journalism has been rewarded with many honours and awards.
Praveen has the unique distinction of being the only Marathi journalist to be awarded fellowship of the Saltzburg Seminar.
Praveeen has edited the Diwwali Special issues of 'Shrivatsa' and 'Janawad'. Of these, the 'Janawad' issue won many honours.
Praveen took active part in the management of 'Yugadharma' after it was owned and managed by the workers there. Gave up his job and worked gratis in 'Yugadharma' as Business Manager for eighteen months.
Praveen has also been Head of Faculty at the Journalism Department of Yashwntrao Chavan Open University for a number of years. Many students of that period are now part of the Indian Administrative Service, and are working on very high posts. They gratefully mention the guidance given by Praveen.
He has participated in many lectures, seminars, discussions, symposia, and gatherings on Journalism in various capacities; ranging from a worker's to being the Chief Guest. He is acknowledged as an expert and as a firebrand commentator on the changing form of journalism.
He is one of the few Marathi journalists who had an opportunity to cover important events all over the country. He was the only Marathi reporter to cover the surrender of dacoit Foolandevi.
He is an editor who had many chances to travel many parts of the globe in journalistic pursuits.
He is well known as an orator.
Praveen is a journalist with an additional ability of writing short stories and essays.
Praveen has been very choosy, accurate, and careful in his language, information and presentation. He has made it a habit never to attack anyone in his writings unless he was sure of the facts. As a result, he has gained a name as a reliable reporter and the reliability has made him an influential name in journalism!
Praveen is a journalist, and an editor who acknowledges the right of everyone to react and , therefore he has direct contacts with all classes of the society.